Watch out mums, body shaming has added another target to aim its poisonous arrow towards – pregnant women. Yes, you read that right. Not only do we have to put up with nausea, acid reflux, aching pelvises, that bizarre strain of narcalepsy we go through in the first trimester – the list goes on and on – we now have to make sure our pregnant forms are immaculate too. By immaculate, I mean compact, sexy, lean and…perfect.
I'm at that stage in my second pregnancy when squeezing into my normal clothes is becoming a bit of a problem. So, a couple of weeks ago, I thought I'd buy a some maternity pieces to tide me through the next three months of growth.  I had to do a double-take when I stumbled across a range of maternity shapewear which promises to give mums-to-be the 'perfect bump'. Now, I'm well versed in typical maternity underwear and tummy bands that offer back and tummy support, but maternity shapewear, however, is all about the aesthetics. Much like grunting yourself into a pair of Spanx, this is about sculpting and molding yourself into something better, the better being a neater more streamlined bump.
&#*%!!!! Seriously? Does this mean that even pregnancy is now victim to conform? If there could be one time in a woman's life when her worth is not in her appearance, surely now, now when she is carrying life, her body doing the most incredible and important act it could ever do…create life, she should be free from society's expectations of what her body should look like. She should be free to enjoy what her body does like, lumps and all. These expectations,  for the most part Western standards (try telling a Caribbean woman to make her bump 'perfect), are just another unnecessary burden to weigh down on the body pressures women have to carry. Frankly, I'm disgusted.
I always thought healthy weight gain in pregnancy was best for both mum and baby. Yet, in the age of super-lean pregnancy idols – think Victoria Beckham, Gisele Bunchen and Kate Middleton, we're told looking good in pregnancy involves a chic compact 'perfectly' formed bump. Celebrities who pack on the pounds like Kim Kardashian, Kelly Clarkson and  Jessica Simpson, on the other hand,  are ridiculed and told to put that 'ish away. So, what is the perfect bump? Well, you'll know if you're told how 'tiny' you look or 'Wow, you don't look pregnant from behind'. Should it sit high or low, be round or out like a bullet? What if you're carrying multiples or like me have large fibroids to add to the mix? What, also like me, do you do if you still have a layer of fat from previous pregnancies below your bump? Perhaps we should just hang our heads in shame, hibernating under a kaftan or cloak until baby comes.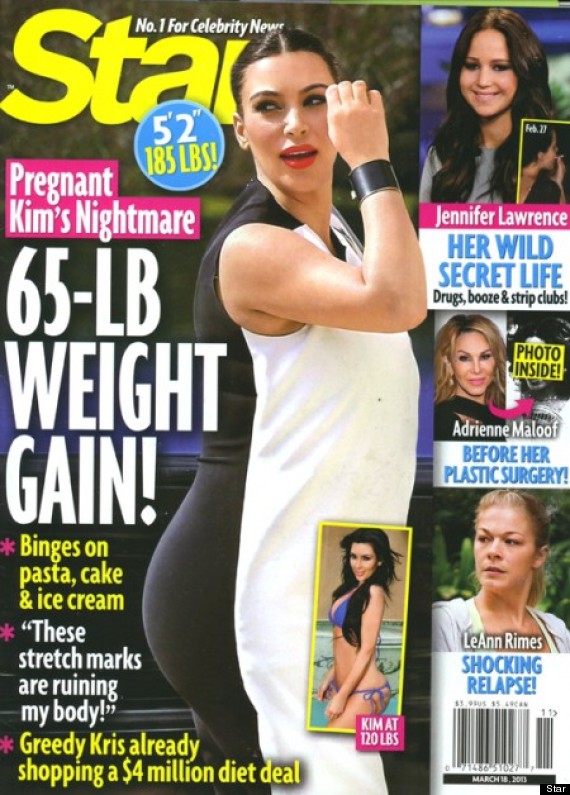 How can the average pregnant woman ensure she's a lean, supreme, pregnancy machine, balancing any pregnancy ailments and conditions with a hot mum-to-be body? Easy, hop online and at the click of her fingers she can purchase herself a little something something to strap down her body and minimise any protrusion. Don't let that pesky bump get in the way, who cares if there's life growing inside it?  Yet, women are buying this crap and scoring highly on the reviews, saying they finally feel glamorous now they can smooth down the excess fat on their stomachs.
Look, pregnancy is beautiful, sensual and surreal all-in-one. It's time to stop this evil climate of self-loathing, which encourages depression, eating disorders, affects breast-feeding and having healthy pregnancies. We've gone from fat-shaming new mums who don't fit in their skinny jeans quick enough to bump-shaming pregnant women who don't carry like a supermodel. I refuse to compress my bump, just to look 'perfectly' chic or sexy for my husband. I will not go from pushing and panting to pushing and pumping weights to ensure I lose the baby weight as quickly as inhumanely possible. There is no such thing as the 'perfect bump'. Pregnancy itself is so far removed from perfection, there are fuller boobs, squidgy lumps and for many, stretch marks, all of which are majestic expressions of the maternal body. This is a time of expectation and wonder, not shame. They burned bras in the 60s, it's time to bump off maternity shapewear. Who's with me?
What are your experiences with pregnancy body shaming?