New year, new fashion season. So,  it's time to buckle up your sartorial seat belts. I've gone through all the trend reports and pulled together the 4 SS17 fashion trends worth rocking this spring.  From hanging on to your AW ruffles to getting waisted with belts, these are undeniably fabulous looks to give your wardrobes an injection of on trend flavour without looking like a fashion victim (or Edina Monsoon's long lost sister.)
As I get older, I'm 35, I care less and less about the 'big trends' of each season and more about developing my own sense of style. That said, as someone who studied fashion design and spent my teenage years watching hours of Fashion TV runway shows, I do still get the thrill of seeing the new collections each season.
While I like to know what the big trends are, as most of them are inspiring and utterly gorgeous, I think for most of us mums it's about finding the balance between style and practicality.
Some trends are well left in the vaults to be resurrected again years down the line. Others should be hung on to and never go out of style. The SS17 fashion trends I've picked have all been chosen with the mum in mind.
Ready, get set, go slay!
ONE. TULLE
Another trend continued over from AW, tulle is everything good about SS17. Ethereal, fresh and so easy to wear, I recommend introducing this fine layer of mystery to your spring summer looks.  By all means show off your underwear if you want, but subtlety is key with getting this look stylish.
HOW TO WEAR
Double up, a tulle tee looks mega over a slogan tee, simple shirt or polo neck and super flattering on upper arms.
Go grunge with a tulle dress over trousers/ jeans.
TWO. BELTS
If you have a mum tum, it's time to reclaim your waistline with a belt. The days of hiding your silhouette under boxy tops and waterfall jackets are gone, it's time for the return of the va va voom. I. AM. WOMAN
HOW TO WEAR
Go for a wide belt over your shirt or dress in a contrasting colour to show off your silhouette.
Belt an oversized wool scarf over your winter coat for an elegant poncho effect.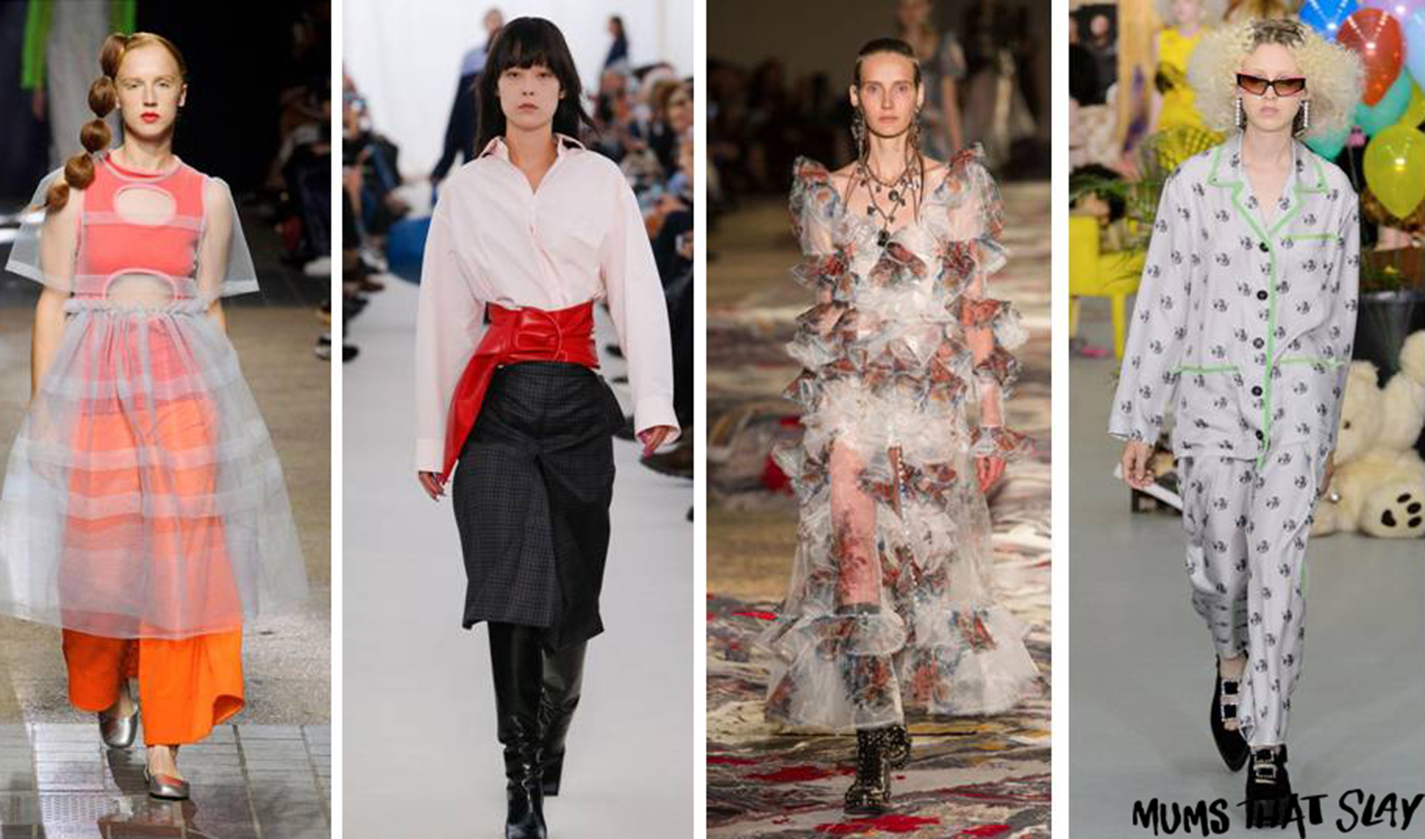 From left to right: Molly Goddard, Balenciaga, Alexander McQueen, Ashley Williams
THREE. RUFFLES
This has to be my favourite trend, as I'm a sucker for the romance ruffles bring to an outfit. They also add drama and texture to an outfit. Skirts, blouses and dresses have all been given the frou frou factor.
HOW TO WEAR
Punk it up and layer the feminine with tough gal denim, studs and leather. There's nothing like a floral dress with a biker jacket to up your mama slay kudos.
Invest in a statement ruffle top. Trust me, when you're stuck for outfit options, your blouse and a pair of jeans will make it all better!
FOUR. PYJAMAS
The sleepwear trend is targetted at the bright young things' morning after the night before. For mums, I'd say it's perfect for the ones who want to do the school run in their PJs. Pyjama tops and wide legged trousers are everything, as are shirting style stripes with lightweight duster jackets to finish it off.
HOW TO WEAR
Clash your prints and mix classic pyjama prints with stripes to make a major style statement.
Invest in a gorgeous silk pyjama set which you can mix and match with the rest of your wardrobe. (I love to throw my pyjama top on open over my tees)
LIKE IT? SHOP IT!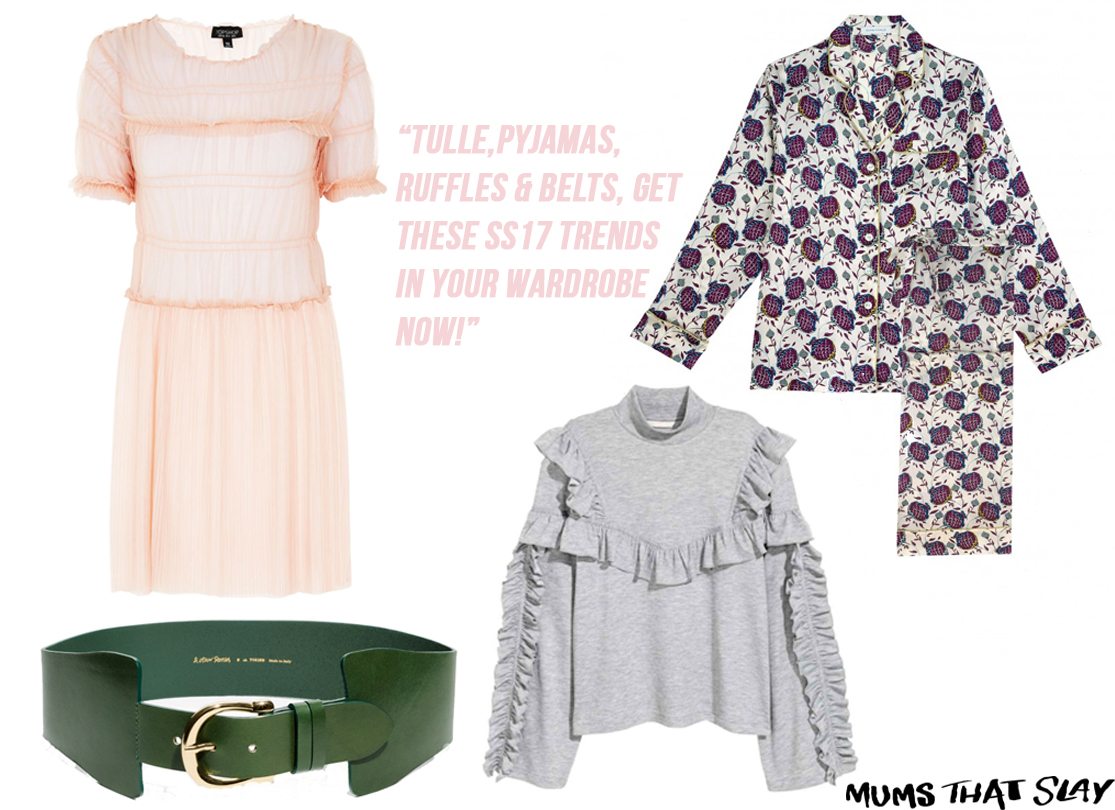 Waist Buckle Belt £39,  &Other Stories 
Silk Pyjamas £350, Olivia Von Halle
What's your favourite fashion trend of all time or what trend should stay in the fashion vault? Why not leave a comment below or TWEET me
Yvadney x