Well hello there! Welcome to another edition of The Mama Slay List, my round up of goings on, purchases and shenanigans. It's been a very busy couple of months and March will see me styling flat out, but I have some juicy goodies to whet your slaying appetite.  This time it's all about pulse points, palm prints, Preen and photo shoots, enjoy!
ONE.
It was such a treat to see Jigsaw's new A by Jigsaw offering at London Fashion Week. They put on a dynamite show of their premium collection which was bursting with their signature minimal elegance, beautiful prints, patchwork denim and popping brights.
I'm sold, we just need the warmer weather now. Check it out here 
TWO.
A few weeks ago I was invited to the very intimate launch of The Chapel salon's new holistic range of products, all about putting the 'Me' into your days. Created by founder and total Mum That Slays, Amanda Dicker, the collection includes a luxury scented candle (hello keep forever packaging), hand cream and pulse point EDT, in three different scents.
I love the Nocturla scent, it's all about the night, which for me is when the kids are tucked in bed and I can enjoy my space. The pulse point is used throughout the day as a 'Hey, let's step out of all this business and have a moment of calm – exhale'. Check it out here
THREE.
I oohed and ahhed my way around the Designer at Debenhams edit at their SS17 press day, with my eye on the Studio by Preen collection. It launches this Wednesday 8th March and I will be shopping it, I have my eye on so much of this collection.
The high waisted dramatic trousers, ginghams coat and ruffled stripes, this is grown up, badass, funkdafied style for fashion-loving mamas like me who want a piece of the runway, without the money commitment. Prices start at £49 check it out here.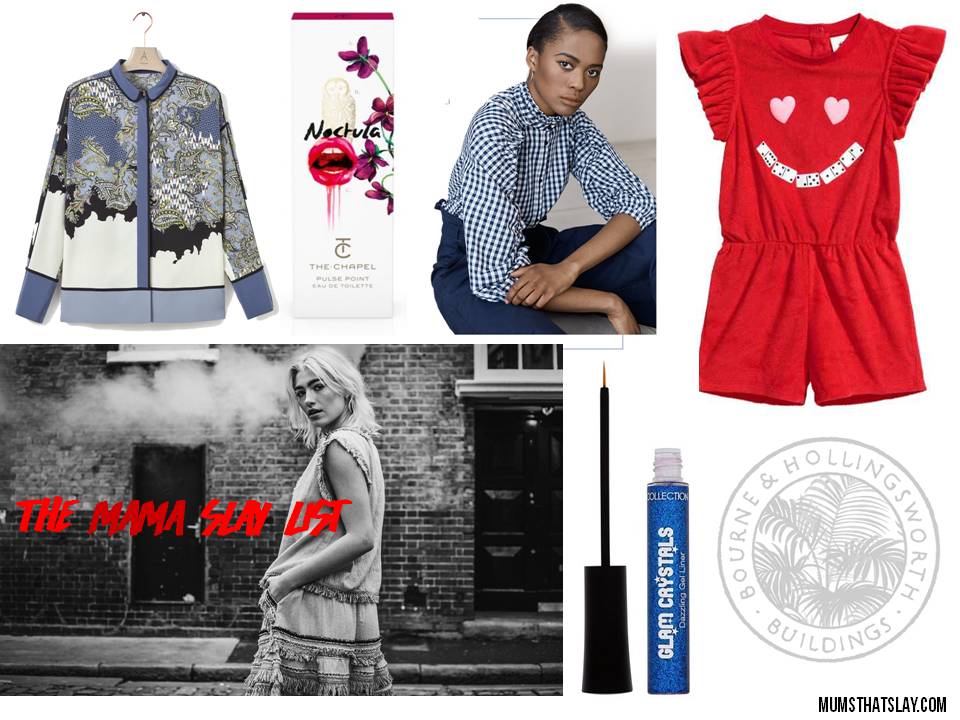 FOUR.
On to another High Street Store known for it's designer collaborations and premium lines, H&M. The Swedish uber shop has launched it' Studio SS17 Collection for kids and it's brilliant. Think Creed, boxers, ballet dancers, the circus, tattoos, red, ruffles and everything in between.
I bought Lolo this cute playsuit from the collection, because I'm obsessed with getting her gorgeously chubby legs out, it's comfortable, with loads of stretch and an easy win to style up and down with other pieces in her ever growing wardrobe. Shop the collection here 
FIVE.
It's been a good while since I've styled any womenswear shoots. So, it was pretty exciting to style the look book for new online store Born At Dawn. Founded by a mum, using a team of professionals (photographer, social media, videographer and hair & make up artist) who all met in NCT 4 years ago, it was one of those shoots when you step back and remember how parenting isn't the end, it's the beginning of new things for so many people.
I will be talking more about Born at Dawn soon, but until then check out the store here and have a look at the edit of easy to wear, luxurious and elegant pieces on offer.
SIX.
My makeup style seems to have regressed 20 years to that of my teenage self. I have this thing for glitter again, be it on my eyes, lips or nails.
Glitter eyeliner is my fool proof way to add a bit of sparkle and magic to my look and seemingly brings the smiles out of people I interact with, who are dazzled whether I've gone for blue, black or silver. Keeping it 1997, I'm rocking Collection Glam Crystals Gel Eyeliner for just £2.99 (pocket money prices) at Superdrug.
SEVEN.
Last week I went to the launch of Marks & Spencer's second collaboration with artist Louise Wilkinson and it's Autograph Kids' collection. It's stunning and I'm looking forward to sharing it on the blog, think Miami, David Hockney, prints, pastels and everything lovely about summer.
The event was hosted in the Bourne and Holingsworth Buildings in Clerkenwell visit here As someone on a mission to bring more of the Caribbean into my Victorian South London home, this restaurant is my new go to. I want to move in or relocate all the faded palm prints, indoor plants and furniture into my home. In addition the food was mouth wateringly good. I'll be back.
So, that's my Mama Slay List, what's on yours? Why don't you tell me below.
Yvadney x
Linking up with Brilliant Blog Posts I The List Linky