You asked and so, I am answering the big question. What are the AW18 trends you need to know about and how on earth will you bring them into your looks this season?
We had a great summer here in the UK and it felt good to waft around in the heat like a Caribbean Queen, but now onto the good stuff – autumn fashion. Am I alone in loving layers and knits, crunchy leaves underneath ankle boots and flashes of colour against a sea of black and grey?
It's worth adding here, that style isn't about following trends, but it's always good to get inspiration for new ways to rock old looks and that's what this post is all about, alongside some top picks from each trend for you to shop now. Now while there were loads of trends on the AW18 runways, these are the ones worth noting – checks, animal print, puffers, 80s and maxmimalism – all with a new twist for 2018.
ONE. CHECKS
Tartan, dogtooth and argyle reign supreme with a little bit of Balmoral v punks for a really in your face look. I personally love the addition of gold accessories and colour for this trend, it's super 80s and we will touch on more of that later.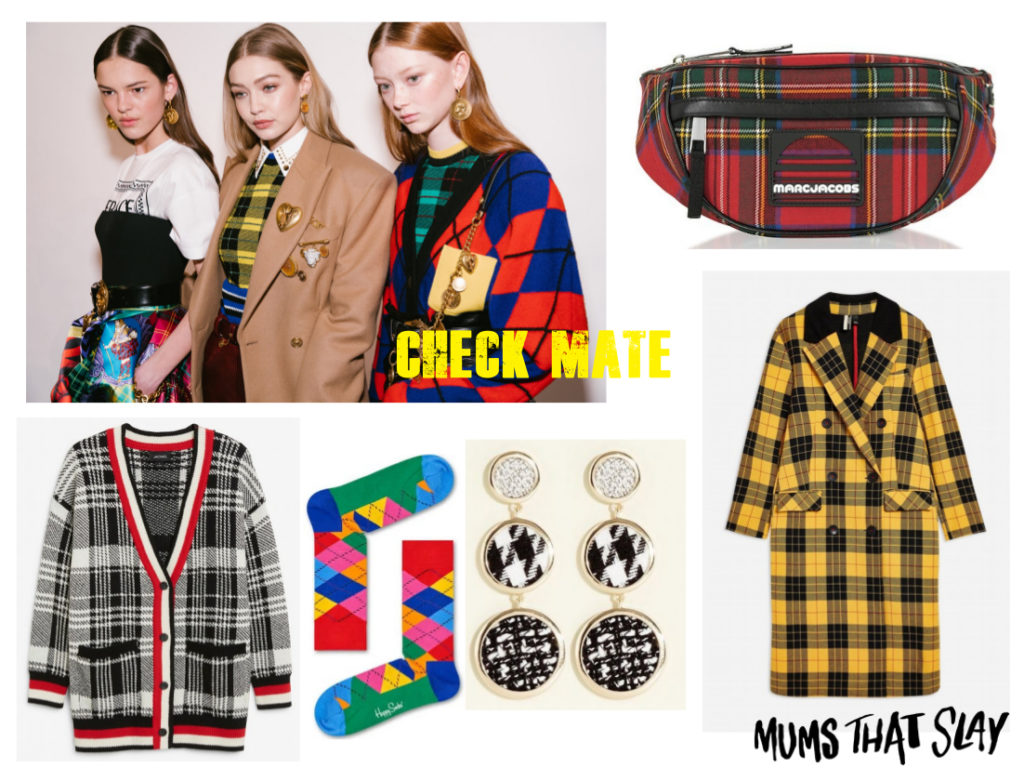 Marc Jacobs Bum Bag I Topshop Coat I New Look Earrings I Happy Socks Socks I Monki Cardigan 
TWO. ANIMAL PRINT
I covered this recently on a #Dopefriday challenge over on the Instagram Page – animal prints have exploded this season. It's not just about leopard print – yes a staple neutral for  style savvy mums everywhere, but now there is a whole zoo filled with animal prints. Enter snake print – so luxurious, zebra – graphic and bold and I've even seen cow print too.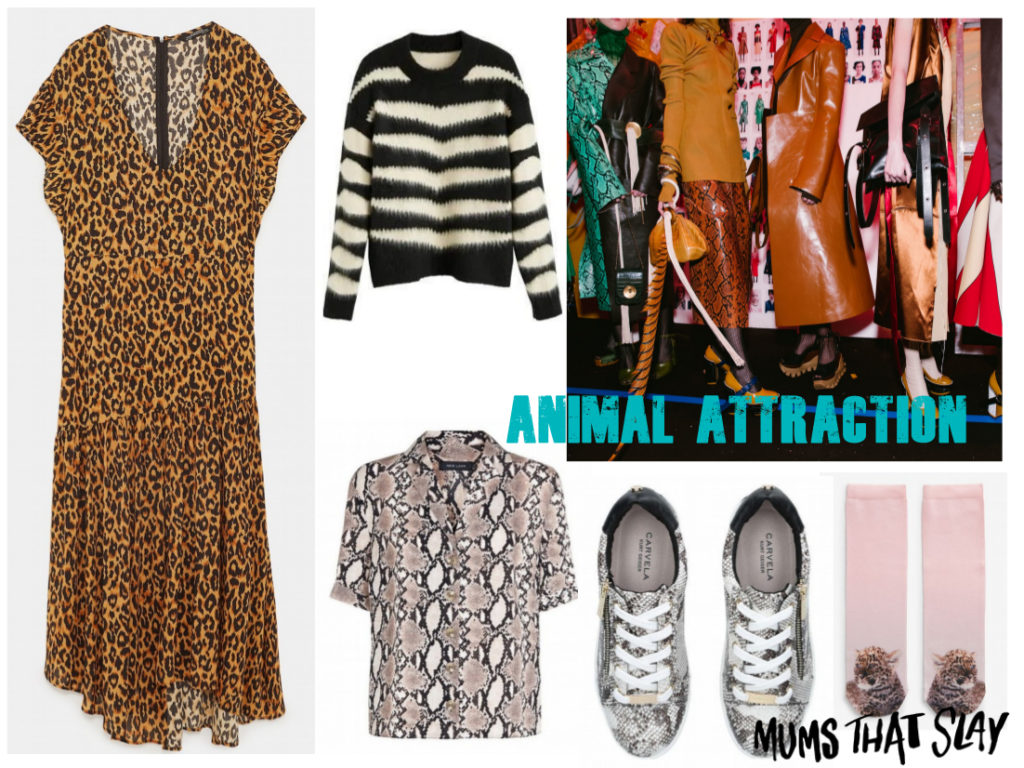 Zara Dress I Mango Jumper I New Look Shirt I Carvela Trainers I Monki Socks 
THREE. PUFFERS
Now this is a trend every mama should get behind, whether it's the school run or the park a good puffer jacket will have you ready-proof no matter the weather. Last year saw the return of the puffer as a fashion statement, this season sees puffers go bigger and bolder, more colours, colour blocking and hi-shine.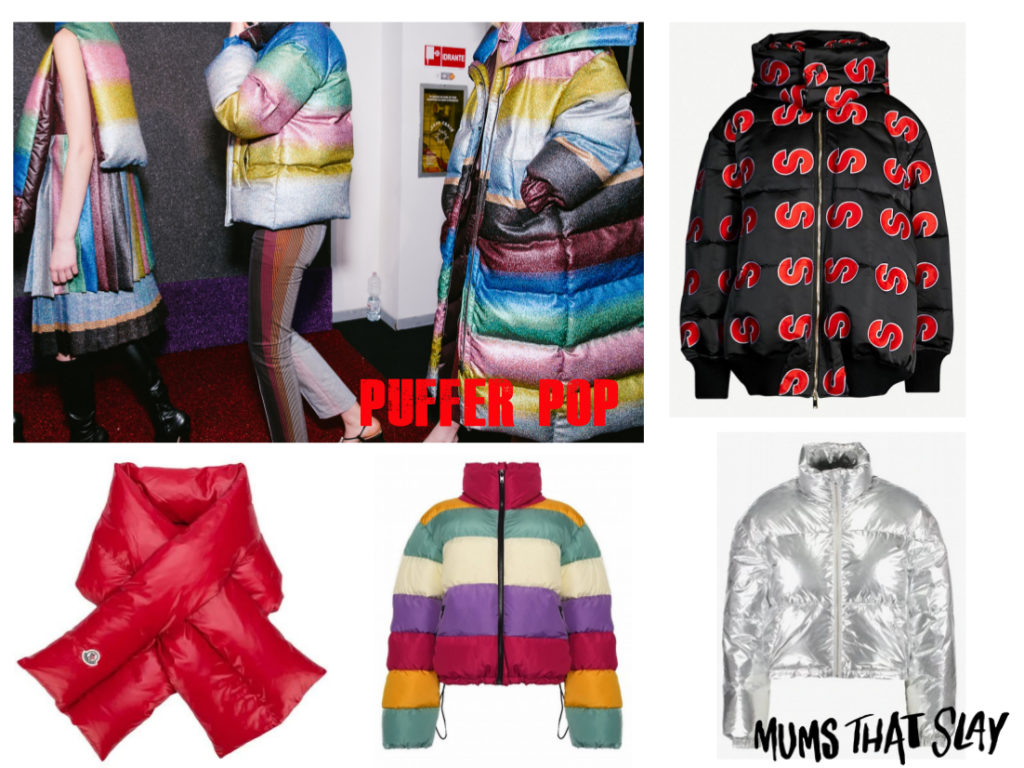 Stella McCartney Jacket I Levis Jacket I Glamorous Jacket I Moncler Scarf
FOUR. 80s
As a child of the 80s, I have a lot of fondess with this one. While I agree it is not in the top ten of most stylish 20th century decades, BUT on reflection there are some gems. Think acid wash jeans and bright leather mixed in with giant gold jewellery and cropped tailoring. On the latter, a cropped jacket may not seem universally flattering, but I counter balance it out with longer layers underneath to give those with mum tum consciousness, a little more confidence.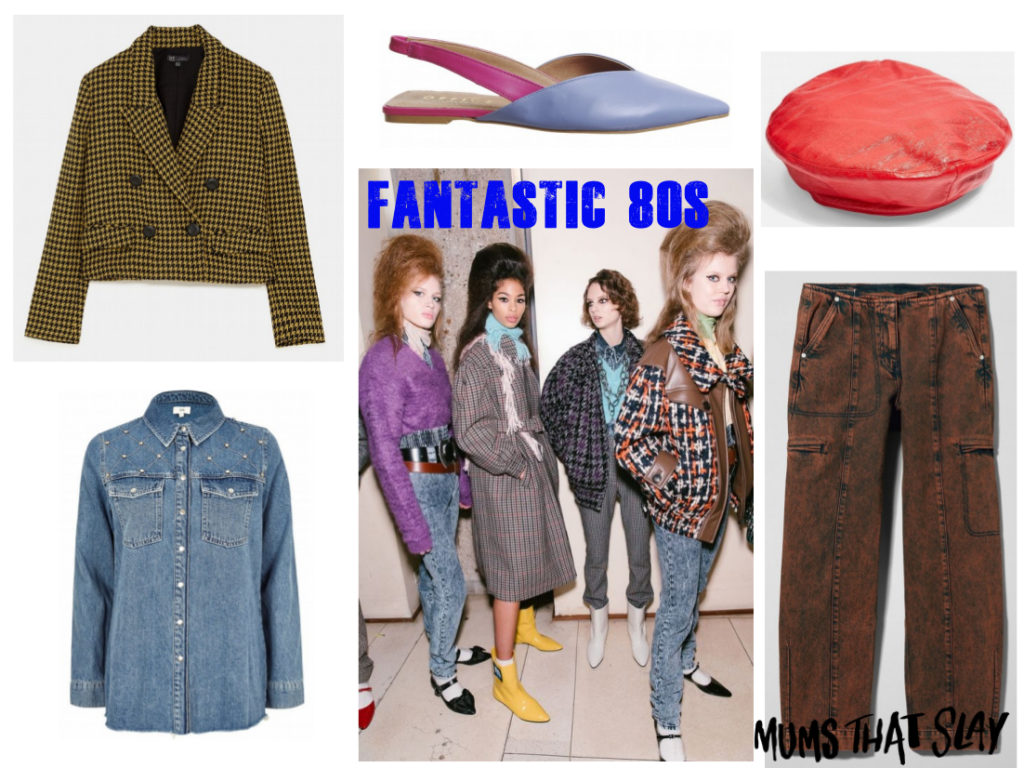 Zara Jacket I Office Shoes I Topshop Beret I Weekday Jeans I River Island Shirt 
FIVE. MAXIMALISM
I saved the best for last, simply because I'm extra like this and never save anything for best. Maximalism is all about the daytime disco and clashing colours, romantic prints and decadent 'out out' details for a full on, where what you want, when you want kinda look. Faux furs are essential as are sequins and a slogan or two. Enjoy!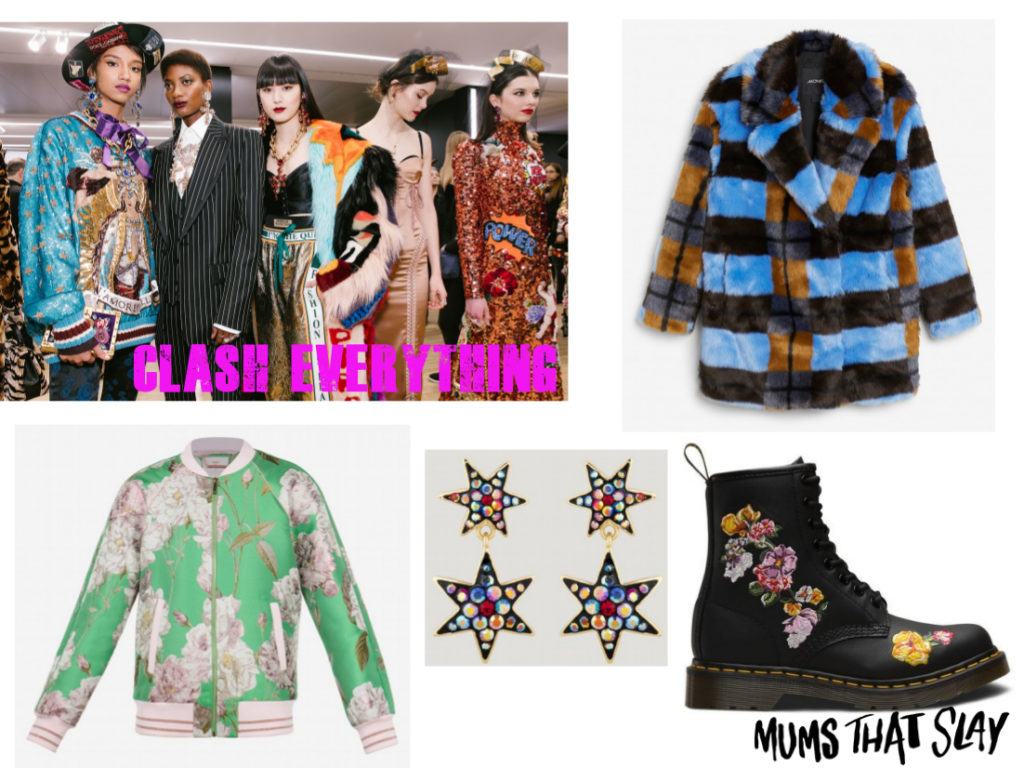 Monki Coat I Dr Martens Boots I Butler & Wilson Earrings I Jacket Ted Baker
So, that's my round up folks. Comment below with your favourite trend or why not share how you rock them over on Instagram and use the hashtag #MumsThatSlay so I can share on my page.
Yvadney x