I've always seen myself as a glass half full kinda gal, I am the eternal optimist and believe that, in the word of Whitney "Love will save the day".  I also adore bright colours and print, powerful women and, of course, Mums That Slay. So, I'm delighted to introduce my very first #JustSlaying Q&A, an interview with Lakwena, renowned artist, style maven and new mum.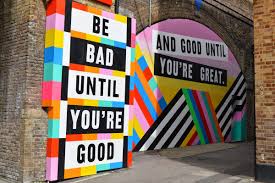 I first discovered Lakwena after her husband, master barber Mark Maciver, gave me the haircut of my life. I had not long given birth to Baby Lolo and in a fit of hormones, chopped off my dreads and headed to one of London's best barbers Slider Cuts. A quick scroll through his Instagram feed showed a jolt of colour in his home, his wife had been painting again. His wife is Lakwena.
Lakwena is not only a maverick with fashion, but is part of the new generation of female British artists smashing up the art scene not only in galleries, but also on the street. She has done exciting collaborations including The Tate, Wynwood and Clinique, in her home town of London and across the world. Here Lakwena talks faith, fashion and family.
Hello…
Congratulations on the birth of your son! how are you feeling a few months in?
Thank you! I am feeling excited about life! In love with Makelo!!! So, so grateful to have him and very blessed to be able to experience this. His name means 'The one who brings' in my father's language Acholi. He's brought so much joy to not just me and my husband, but all my family. So I feel he's not just mine, but ours.
I'm absolutely shattered and on the edge sometimes and other times absolutely in love with the cuteness and brought to tears just looking into his eyes.
I've had ups and downs and felt slightly anxious and itchy about not being able to paint but I'm trying to enjoy the season. He's beginning to get a bit easier to leave with other people which is great.  So I'm getting excited about the prospect of being able to dip into more work.
Has motherhood changed your style?
Yes. My body is more 'maternal', which is strange to get used to. Bra wise I used to be a B, now a D so I feel less nippy and can't jump around as easily and I just look more maternal.
I'm breastfeeding so have to be able to quickly lift up my top for access; can't wear any of those really nice floor length dress looks that are around at the moment. I had a small waist so liked wearing waisted trousers, skirts etc. Now I'm generally wearing stuff that covers my tummy while it goes down.
Also, I don't have lots of time but I just wear the same few things on rotation and I'm cool with that. Not much time to plan outfits, but I was always into practicality anyway so still in trainers all the time.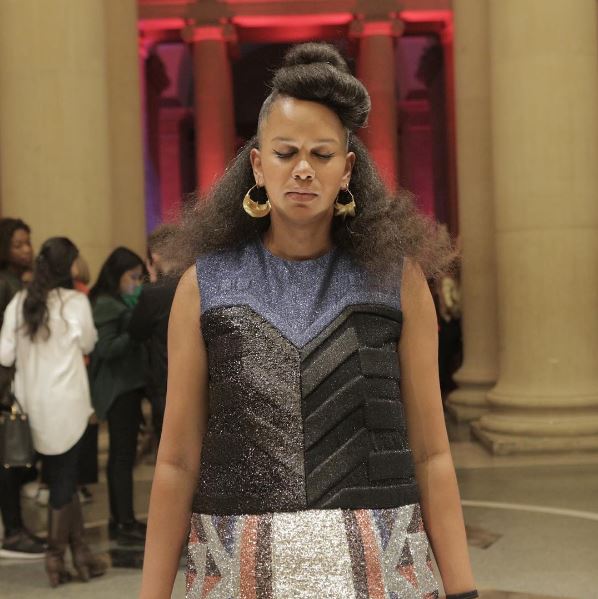 You have £20 in your pocket and fancy a style pick me up, what do you buy?
£20 for a style pick me up….mmm…I'm quite liking a lot of the tops/tees in Zara right now. Just simple with little details like flared sleeves, very wearable, great for feeding, and flattering, if you get the right one.
Where do you like to shop for your son?
I don't like spending too much because he grows out of it so fast. I like Fara kids charity shops in Notting hill and primrose hill, you get fancy clothes for cheap. Also American Apparel sale and eBay secondhand. New stuff-wise I love the new exclusive collection in H&M but haven't bought any yet. It's a bit more pricey but gorgeous, exactly what I like for babies. Simple. Might do for a special occasion.
What's in your nappy bag?
I just use my normal backpack, I like to travel light. So
Nappy wipes
Nappies
Changing mat
Muslin cloth
Toys – teething ring, rattle, Sophie giraffe
1 change of clothes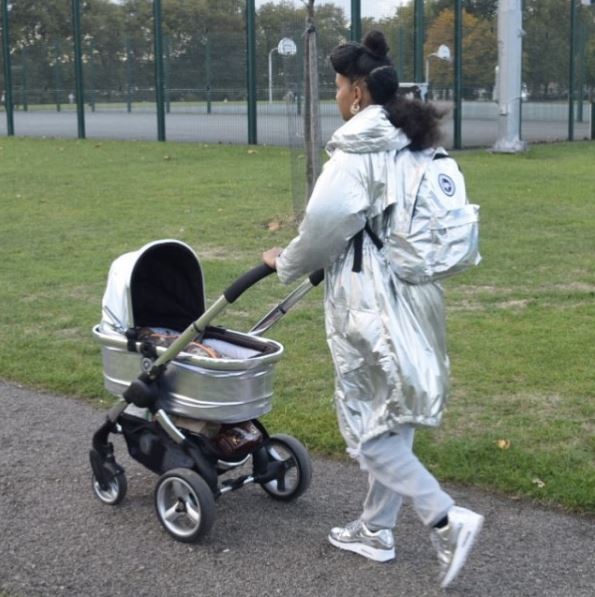 Who's your ultimate style mum?
Sharmadean Reid, founder of WAH nails
The hardest thing you've found to maintain in your beauty regime?
It's not too hard really. I don't wear much makeup, often none. Get my brows threaded once every 2 weeks. I would have said hair, but the breastfeeding hormones have worked in my favour. I've sadly gone a bit thin at the front, but the rest of my hair's got much thicker so my curls are working better than they have for years!
My nails I was really enjoying getting shellac and they would grow really long. I had to cut them off soon after he was born for practicality and it would be nice to be able to have that bit of glamour back. Here's a tip though. If I have a photoshoot or a special occasion I wear stick on nails. And then just take them off again after. WAH nails do some really nice edgy ones.
What are your can't live without beauty/ skincare products?
Olive oil for skin
Elizabeth Arden lip repair for lips
Tresemme for hair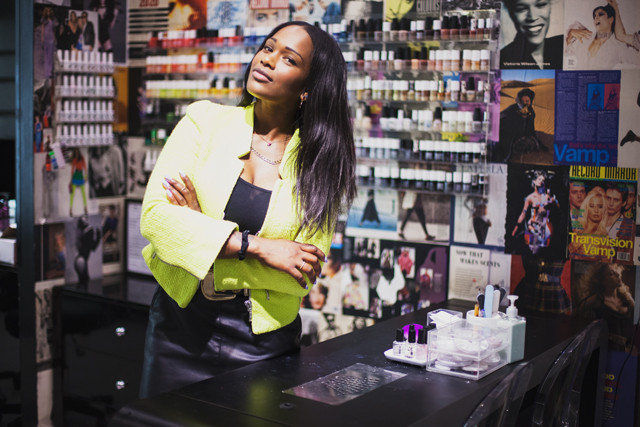 What inspires your work?
Aesthetically I love street decoration. Everywhere I go I'm inspired by signs, typography, painted walls, doors, patterns. Especially in countries where it's a bit more DIY.  Conceptually a lot of my work is about heaven. Looking ahead to it. My faith is central to a lot of my work. So seeing beauty as a reflection of God/heaven.
How do you juggle life as an artist and as a mother?
Only just learning how to. My husband is amazing and is always eager to take Makelo in the evenings or weekends, even to cut clients! So that gives me a break. I should probably sleep but I like to make work as I just love it.
I have a sister, Abimaro, who is a musician, so she's freelance too and she was there for my recent project at the Tate. She's able to help me and look after Makelo when needed.
Because she's an artist she fits in great with my working environment and my team, if I have one. I hope to be able to return the favour when she has kids.
My mum and my husband's mum are also eager to take Makelo and I think hopefully we are going to have them looking after him several days a week from spring time, so I can work.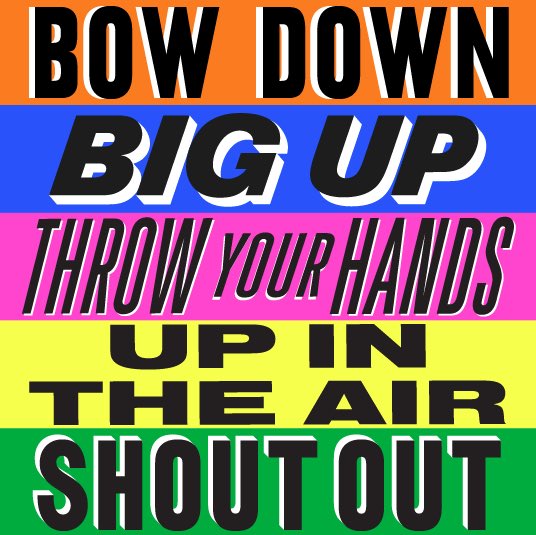 Can we expect some motherhood-themed creations?
Yes, it's inspired me. I think partly it's made me realise how much I love painting and creating now that I can't do it much. A lot of my work seems to echo the pattern of what's happening in my life, so I'm sure there'll be some stuff coming out of this experience/state of motherhood.
I'm also aware that I'm raising a baby who society will view as a black man. And that's made me more keen to sow into Bros With Fros, my collaboration with my husband, the barber SliderCuts.
I'm so aware of the power of the artist as mythmaker, and I want to use my work as a way of instilling in Makelo that Black is beautiful and that Africans are amazing. Refuting the negative messages that he will unconsciously and inevitably absorb in the world we live.
Your proudest moment?
Proudest moment. Can't think of one. I think with work it's more of a journey, I can always see room for growth. I'm proud of my first big wall in Miami 'I remember Paradise'. It was such a mission to complete, and really significant for me in many ways.
I never would have imagined this before I had him, but I've felt incredibly proud just recently as
Makelo has learnt to turn onto his front when I've put him down on his back. I realise it's just a natural part of his development, but I feel so incredibly proud of him!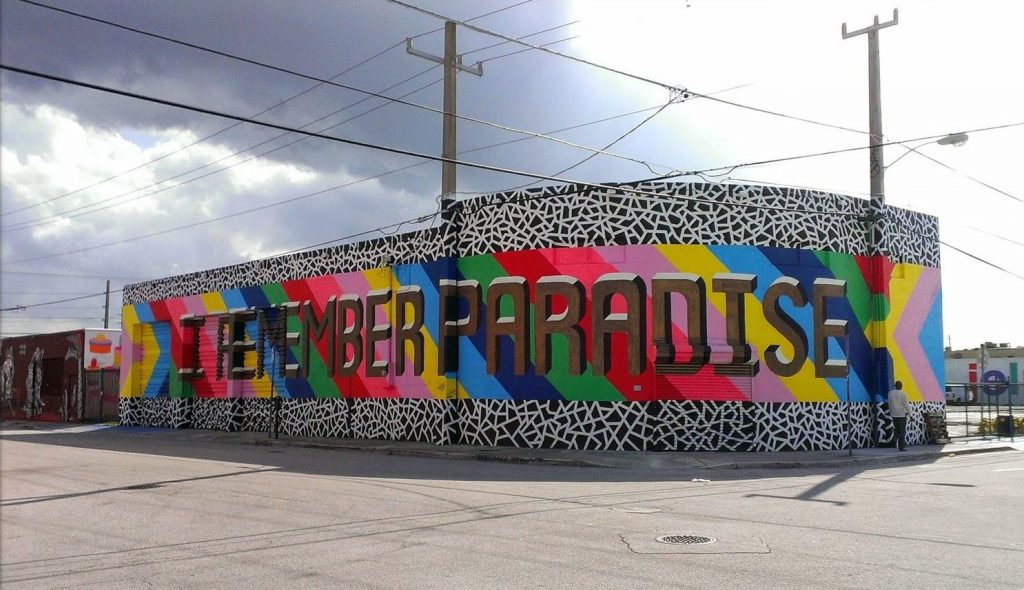 So what's next for Lakwena?
What's next? Not sure. Keeping on making work. I've got my excitement about work back. So, I'm really excited about working out how to do it with Makelo. But also wanting to take this season out as just me and Makelo time, so I'm being patient. Kind of planning and meeting with people right now for this spring, when I hope to properly get back into things.
What is a mum that slays?
Nothing dramatic, just a mum who does her best with what she has to love her child.
Liked it? Share it or better yet, leave a comment below.
Yvadney x
Linking up to Brilliant Blog Posts