Welcome to The Mama Slay List, my monthly round up of things I'm loving and wanting in my life or wardrobe (wink) right now. This month is all about cutlery, cup sizes and destroying cancer.
Clockwise from top left:
ONE
There are a few style sensibilities I am known for 1. Colour 2. Print 3. Animal print 4. Clashing prints So go figure my heart skipped a beat when I saw the new H&M Trend collection featuring this outrageously flirty and fun shirt dress. It ticks all the mama slay boxes, it's statement so you can throw it on and know you'll look fabulous and the button up feature means it's perfect for breastfeeders. I'm thinking Date Night with heels for Valentine's Day and open over jeans for the school run. Shop it here
---
TWO
Reading Living Etc this month I came across the most insane cutlery set ever. It was iridescent and looked like it had been dropped in a pot of unicorn oil, glistening in shades of pink, blue, purple, silver…. stunning, the designer is George at Asda. Talk about supermarket sweep! So, I headed online to check out the range – alas, they are not in store yet, but this super slick golden set is. Now this is how you bring the Midas touch to your dinner table. Shop it here
---
THREE
I love the world of kids' fashion. I love how more and more luxury designers are seeing it's potential, even if I won't be dressing the kids in £1000 leather jackets, I can still appreciate and most importantly I can still use them on my photo shoots.  So, I'm loving the fact that the Prince of Fashion Olivier Rousteing has launched a miniature version of his brand Balmain Kids. Unlike many other designer kids' brands, the range has been designed in-house. So you don't need to be a Kardashian-West kid to kill the Balmain mummy and mini me-look to perfection (or dream to £££). The range is launching exclusively to Harrods in its Mini Superbrands department this February.
---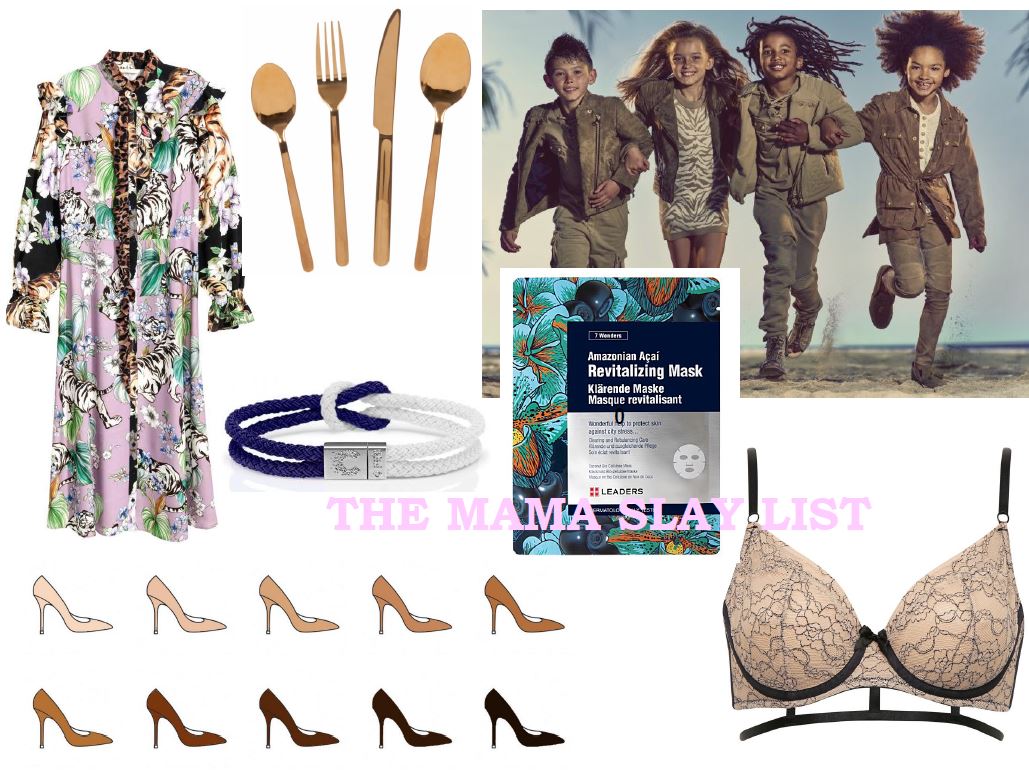 FOUR
I had the pleasure of attending the Figleaves SS17 press day this week at the lush Four Seasons Hotel Spa on Park Lane. Gorgeous stuff, pretty, sexy, supporting, exposing and shaping in all sorts of colours, prints and trims. The highlight for me was getting measured properly for the first time post pregnancy and breastfeeding and discovering I've gone up 1/2 a cup. I was treated to this gorgeous bra set (just in time for Valentine's Day) which not only gives me the most sumptuous cleavage, but features this amazing strap detail (also on the knickers, which are seriously sessy!) Shop it here
---
FIVE
If you read my recent post on winter proofing your skin, you'd know I'm really into my skincare routine. I love me a good face mask, especially if it's Korean.  Being a city girl I'm intrigued by the Leaders Amazonian Acai Revitalizing Mask, it claims to be an antioxidant product that purifies and neutralises the harmful effects of pollution on the skin. Besides Selfridges have given it the stamp of approval, it's one of their newest brands. Shop it here
---
SIX
How do you teach empathy to your little ones and talk about the sorrows of this world? I'm starting to be transparent to MG, he's 5 in May and questioning things more. He cares about homeless people and the 'children of the world'. So when I showed him our bands by Cancer Research UK to celebrate World Cancer Day (4th February) he was delighted to know that by wearing his cool new wristband, he was raising awareness and standing up to beat cancer and find cures and better treatments for 'sick children in hospital'. More information and shop the bands for adults and kids here 
---
SEVEN
As an ethnic minority it can get really frustrating when 'normality' is thrusted at you in the package as white. That means "Nude" as in beige/ tan/ caramel, is not a colour I can relate to as my skin tone. Enter Kahmune (com-mune) a luxury line offering a selection of footwear designed to match the spectrum of skin tones. The premium leather (sourced from Italy) shoes will be available in 10 different shades named after the different women who have played a part in the founder's life. We hear you, we wear you…diversity matters, representation matters, inclusion matters….fashion for all matters. Launching this spring here
---
Did your boobs change size with pregnancy? What are you loving right now? Tell me in the comments section, I'd love to know!
Yvadney x